Ever wondered how those cool t-shirts with vibrant prints are made? The method utilized to produce those striking patterns is screen printing. Screen printing is a useful way for making eye-catching canvases, posters, and artwork, but it can also be used to print on fabrics and textiles, making it perfect for making all kinds of personalized apparel and products.
A few affordable materials, some patience, and inspiration to get started are all you need. The opportunities for original prints are infinite once you master the fundamental procedure.
The best aspect of this incredible method is something else entirely. In this guide of what is screen printing covers a step-by-step lesson. So if you're interested in learning how to screen print shirts or anything else, Keep reading!
What is screen printing, in detail?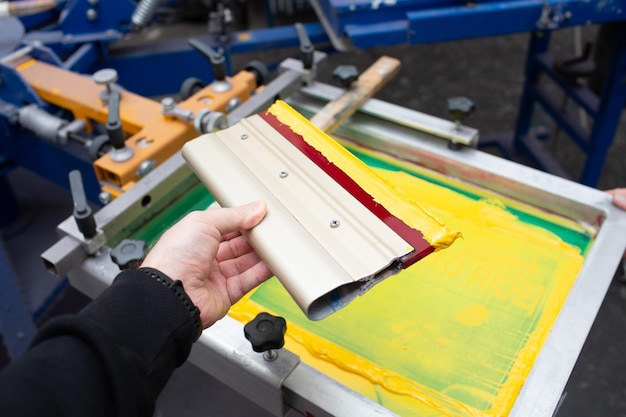 Definition of screen printing: Screen printing, also known as silkscreen printing, is a common method for imprinting images on a variety of items, including t-shirts, posters, and more. It includes making a stencil and applying several coats of ink to a surface using it.
For each color in the design, a stencil is first created. You can't print in certain locations because of the stencil. The surface you wish to print on must then be covered with the stencil. Ink is applied to the surface underneath the stencil using a squeegee after the stencil has been painted over with ink. The printed image is then removed, leaving behind the stencil.
This process is repeated for multi-colored designs using a different stencil for each color. The key is ensuring each stencil is aligned properly with the ones before it. With some practice, you'll be layering colors in perfect registration.
T-shirts, posters, glass, metal, and other materials can all be printed with screen printing. It adheres well to clothing and other materials.
Water-based or plastisol inks are often used, as they are durable and flexible when dry. Plastisol inks require a heat setting.
Photo emulsion or film stencils can achieve high detail. Stencils are exposed to light, then the design is washed away, leaving behind the print area.
Screen printing equipment like a press, exposure unit, and washout booth is useful for efficient production, but you can get started with basic tools and some DIY hacks.
A variety of mesh counts determine ink deposit. Higher mesh means less ink and more detail; lower mesh means a higher ink deposit for an opaque print.
The Screen Printing Process, Step-by-Step
Do you intend to study screen printing, then? Following is the process of screen printing, step by step, in order:
Gather your supplies. You'll need a screen, emulsion, film, squeegee, ink, and a heat source. The screen is a fine mesh fabric stretched over a frame. The emulsion is a light-sensitive liquid that hardens into a stencil. The film contains your design printed on a transparent sheet.
Coat the screen with emulsion. Apply two coats, letting each dry. The emulsion will be soft until exposed to light.
Place your film design on the screen. Press firmly so it adheres evenly.
Expose the screen to light. This hardens the emulsion and creates your stencil. Wash away the unhardened emulsion. Your design will remain, creating open mesh areas for the ink to pass through.
Apply ink to the top of the screen. Use a squeegee to pull the ink across, forcing it through the open mesh onto your material below.
Cure the ink. Heat sets the ink onto the material, either with a heat press or heat gun. This bonds the ink and makes the print durable.
Wash the screen and start over. Re-coat the screen with emulsion to print your next design. With care, a screen can be used many times.
With some practice, you'll be screen printing custom t-shirts, totes, and more in no time! Let your creativity loose and have fun with this versatile printing technique. If you follow each step carefully, you'll be on your way to becoming a screen printing pro.
Is Screen Printing of Good Quality?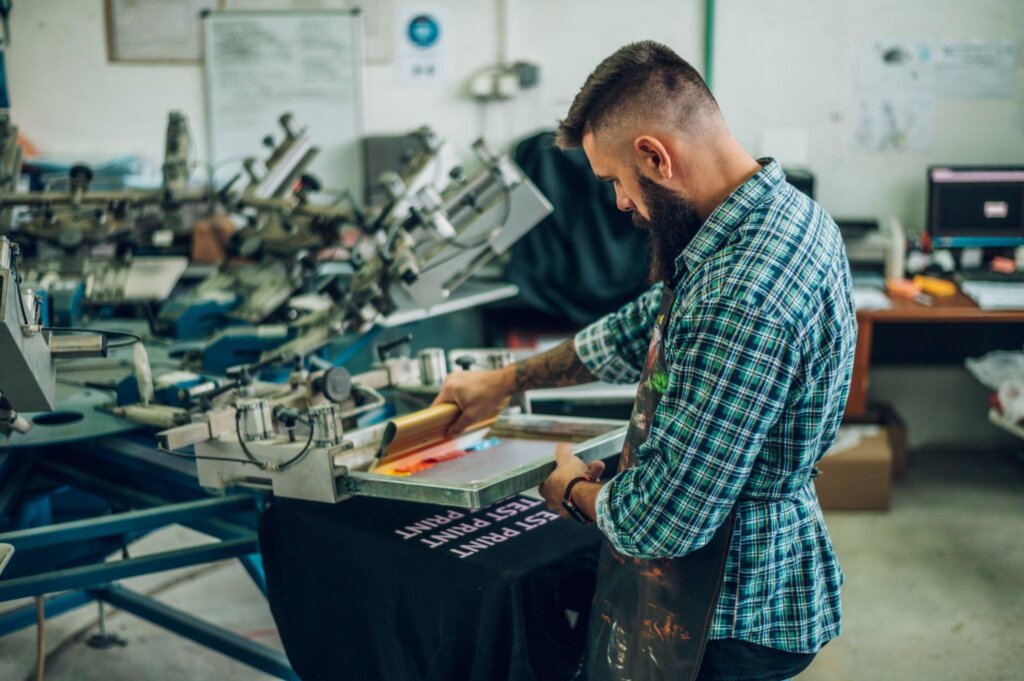 Screen printing is a high-quality technique that produces vibrant, long-lasting prints. The ink is applied directly to the material using a fine mesh screen, then cured to make it permanent. This process allows for crisp lines, bold colors, and opaque prints that stand up well to washing and weathering.
Highly Customizable
Practically any material can be used to print on using the incredibly adaptable screen printing technique. Printing is an option for many different goods, including t-shirts, canvas totes, metal signs, phone cases, and more. The prints can also be highly personalized with as many colors and layers as you like. This is how to make a screen print ideal for branded merchandise, artwork, and other products where color and quality are important.
Cost-Effective at High Volumes
While the initial setup fees for screen printing can be higher than other printing methods, the cost per print becomes very affordable at higher volumes. This technique is best suited for larger orders of 50 items or more. The price per print will decrease significantly as the total quantity increases.
Vibrant and Durable
Screen printing uses special inks that are pressed into the fabric, resulting in prints that are opaque and long-lasting. The inks are then heat-set to cure them, making the print resistant to washing, sunlight, and abrasion damage. Properly cured screen prints can last for many years without fading or peeling.
An Art Form
In the hands of a skilled artisan, what is screen printing used for? is to create beautiful works of art. Many contemporary artists use screen printing to make colorful prints, posters, and other pieces. The process allows for lots of experimentation with different inks, overlays, and textures. For this reason, hand-made screen prints are often considered highly collectible.
While digital printing has become more popular and affordable, screen printing remains an excellent choice for high-quality, custom screen printing with bold, bright colors. When done well, screen printing results in truly vibrant works of art. Screen printing will probably continue to be a crucial printing process for years to come because of these factors.
What Are The Five Basic Materials Used In Screen Printing?
To successfully screen print, you'll need five basic materials:
Screen
The screen is the foundation of screen printing. It's a wooden or aluminum frame with a fine mesh stretched across it. The mesh has open areas that allow ink to pass through and closed areas that block ink. You'll need a screen for each color you want to print.
Squeegee
A squeegee is a flexible blade that's used to push ink through the open areas of the screen mesh onto your printing surface. You'll use the squeegee to make smooth, even strokes across the screen.
Ink
Screen printing ink is specially formulated to pass through the fine screen mesh. You'll need ink that's suitable for the material you want to print on, such as ink for cotton shirts, paper, or other surfaces. Most inks require a catalyst to harden them.
Printing Surface
T-shirts, stickers, posters, and other products that you want to print on are examples of printing surfaces. The surface needs to be able to withstand the pressure and heat of screen printing without warping or suffering damage. Many materials require pretreatment to accept the ink.
Emulsion
Photo-emulsion Photo emulsion is a light-sensitive film that's used to block out parts of the screen mesh. You apply the emulsion to the screen, then expose it to light through a film positive. The areas exposed to light harden, while the unexposed areas wash away. As a result, the open and closed portions of the screen that make up your image are created.
DIY Screen Printing vs. Professional Screen Printing
DIY screen printing at home can be a fun and rewarding craft project. However, professional screen printing is the way to go for larger print runs or more complex designs.
Cost
DIY screen printing will likely be cheaper for small projects since you only have to invest in basic supplies. But if you want to print hundreds of shirts or need special equipment, the costs can add up quickly. Professional screen printers have high-volume equipment and the experience to complete jobs efficiently and cost-effectively. They can also access wholesale prices for blank shirts and inks.
Quality
DIY screen prints may look homemade, with uneven ink coverage, smudged lines, or other flaws. Professionals have the proper training, technique, and equipment to produce crisp, clean prints with consistent quality. They use high-quality inks and emulsions for vibrant colors and durable results.
Complexity
Some designs are simply too complicated for DIY screen printing and require automated equipment and experienced operators. Multi-color prints, gradients, simulated process prints, and prints with fine details or halftones typically need a professional touch. Professionals can also imprint on a wider range of garments, surfaces, and materials.
Time
For most people, screen printing is a hobby. But for professionals, it's their job. Any big order can be finished quickly and by your deadline because they have the necessary resources.
The decision ultimately depends on the project's priorities and your particular needs. For basic t-shirts or personal use, DIY screen printing is a great option. But for high-quality, complex prints on a large scale, professional screen printing simply can't be beaten. The effort will be worth it in the end.
Conclusion
A comprehensive manual explaining every step of the screen printing process and how screen printing works. Because every printer has received specialized training to provide the best results, you can be confident that we provide the best service available. Be sure to take a peek and see what individualized products you could produce today.
We create designs for a wide range of apparel, including custom T-shirts, hoodies, and sweatshirts. Who knows, you could become the next big thing in screen printing!