Hoodies and sweatshirts serve much the same function. But do you notice the fabric? There are so many alternatives for hoodies, including cotton, polyester, and wool; so, what is the best material for a hoodie? 
The fabric is the one important factor, nonetheless, that establishes the caliber of the hoodie from your apparel line. To guarantee that your hoodies become your consumers' favorite item of apparel, it is crucial to consider the good-material hoodies you choose when manufacturing them.
We'll guide you through what materials hoodies are made of so you can pick one you'll enjoy for years to come, whether you want a thin hoodie for layering, a thick one to keep you warm, or something very breathable for working out.
Cotton: The Classic Hoodie Material
Cotton is the classic choice for hoodies, and with good reason. Cotton is:
Soft and comfortable. Cotton hoodies just feel so cozy against your skin.
Breathable. Cotton allows for airflow, so you stay comfortable in a range of temperatures.
Absorbent. Cotton absorbs moisture and sweat, keeping you dry.
Easy to care for. Cotton hoodies can typically be machine washed and dried. No special care is needed.
For a lightweight hoodie ideal for layering or cool summer nights, choose a thinner cotton-like jersey or interlock. For a warmer hoodie, go for a mid-weight fleece or thermal cotton. Cotton-polyester blends can also provide extra durability and stretch.
Pima and Supima Cotton
For an ultra-soft premium hoodie, consider Pima or Supima cotton. Pima cotton comes from a certain type of cotton plant that produces extra-long cotton fibers. Supima is of even higher quality, made of the longest, finest cotton fibers. Hoodies made of Pima or Supima cotton are exceptionally soft and breathable, but a bit more pricey.
Whether you want a basic everyday hoodie or a luxuriously soft splurge, cotton has you covered. For versatility, comfort, and easy care, cotton can't be beaten as the best all-around material for hoodies.
Polyester: A Budget-Friendly Synthetic Option
Looking for a budget-friendly fabric that can stand up to anything? Polyester is a great synthetic option for hoodies.
Polyester is durable, wrinkle-resistant, and machine washable. It's a petroleum-based material, so it repels water and stains. This makes polyester hoodies ideal for outdoor use since they dry quickly and resist fading. The low cost also means you can toss a polyester hoodie in the wash without worrying about damage.
Polyester does have some downsides, though. It's not the softest or most breathable fabric, so polyester hoodies can feel stiff and cause you to overheat. The material is also prone to static cling. To avoid this, look for polyester fleece or blends with natural fibers like cotton. These provide extra softness and breathability.
For budget-conscious hoodies manufacturer, a basic polyester hoodie is a wardrobe staple. You really can't beat the durability and affordability. If comfort is a concern, consider a poly-cotton blend or polyester fleece. Either way, a polyester hoodie should last you many seasons to come.
With the right care, a polyester hoodie can serve you well for years. Wash it on cold and tumble dry low to maintain the size and shape. Avoid fabric softener, which can damage the water resistance. For stubborn stains, pretreat before washing and check the label since some polyesters require non-chlorine bleach. With a little TLC, a polyester hoodie will be your go-to for casual comfort.
Wool is Warm and Breathable for Cold Weather.
Wool is Warm and Breathable For Cold Weather
Wool is a great choice for hoodies meant to keep you warm in chilly weather. The wool comes from sheep and is a natural insulator that helps retain body heat. Wool is breathable, allowing moisture to travel through it at the same time. This means you'll stay warm without overheating.
For a cozy hoodie, look for wool fabrics like merino wool or lambswool. Particularly soft, light, and scratch-free is merino wool.
Some other benefits of wool hoodies include:
They are durable and long-lasting. Wool fibers are naturally elastic and resistant to damage.
They are odor-resistant. Wool is naturally resistant to the growth of bacteria that can cause odors.
They provide insulation even when wet. Wool has a 30% moisture absorption capacity without getting wet.
They are environment-friendly and sustainable.
Wool hoodies have the disadvantage of frequently requiring dry cleaning or hand washing to avoid shrinkage, which can be inconvenient. They are also not ideal for warmer weather since they provide such effective insulation.
For casual comfort in winter weather, a wool hoodie is a great choice. Look for a mid-weight wool fabric and a roomy, cozy fit. With the right care, a wool hoodie can become your favorite cold-weather layering piece for years to come.
Fleece: Soft and Cozy Feel
Fleece: Soft and Cozy Feel
Fleece is one of the coziest and softest hoodie materials. Fleece is a soft, fuzzy material with light insulation and warmth that is made of spun polyester strands.
On cool days, fleece hoodies are ideal for casual wear because they are cozy and breathable. They're ideal for lounging around the house or running errands.
The thickness of fleece ranges from lightweight to heavyweight. For the spring and fall, pick a thinner fleece, and for the winter, a thicker one.
Fleece is very durable and pill-resistant. It's also hydrophobic, meaning it repels water and moisture. However, fleece is not waterproof and will soak through in heavy rain.
Fleece hoodies are very affordable and low-maintenance. They're machine-washable and dryer-friendly. Tumble-dry on low heat to avoid damage.
Popular brands like The North Face, Patagonia, and Columbia offer high-quality fleece hoodies that provide both comfort and style.
If you want a hoodie that's warm, soft, and casual, fleece is an excellent choice. For extra protection from wind and rain, look for a fleece hoodie with a water-resistant finish or pair it with a shell jacket. A fleece hoodie is a wardrobe staple that you'll use for years to come.
Cashmere: Luxurious and Ultra-Soft
Cashmere: Luxurious and Ultra-Soft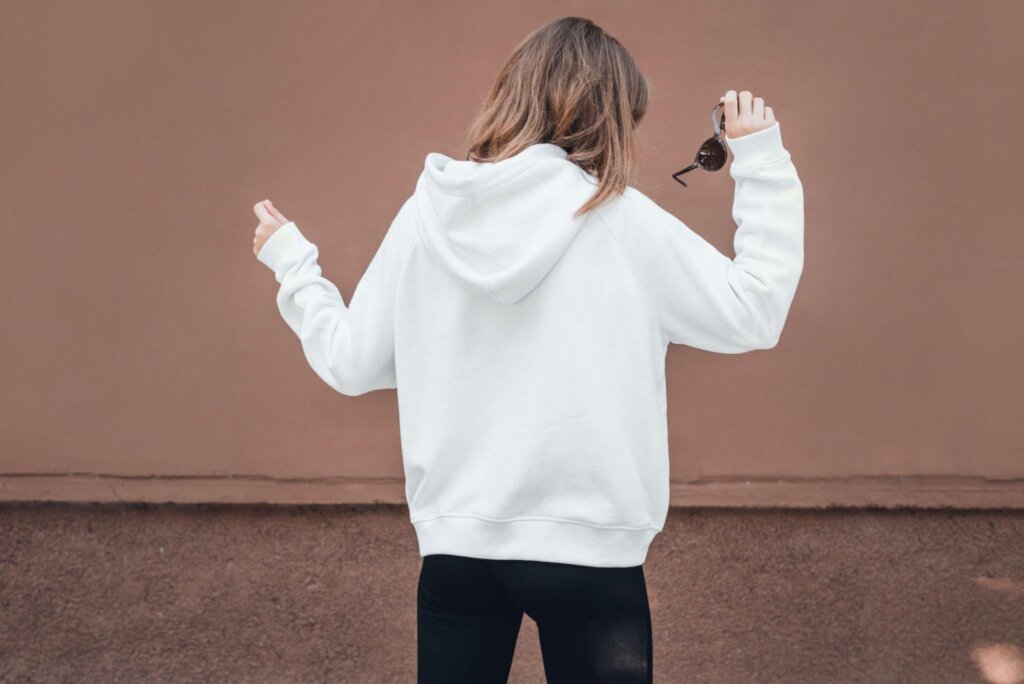 Cashmere is considered a luxury fiber for good reason. It's extremely soft, lightweight yet insulating, and durable. However, it does come at a premium price.
Cashmere hoodies are made from the fine undercoat fibers of cashmere goats. These fibers are very fine, soft, and insulating. Garments made of 100% cashmere can keep you warm without overheating. The softness of cashmere can't be beaten, and it only gets softer with each wash.
If you want the ultimate in comfort and are willing to pay more for quality, cashmere is an excellent choice for a hoodie. Look for labels indicating "100% cashmere" to get the highest quality. Blended cashmere with 10–30% cashmere may be more affordable but less soft and insulating.
With proper care like hand washing, air drying, and occasional professional dry cleaning, a high-quality 100% cashmere hoodie can last for many years. However, cashmere is still a delicate natural fiber, so use care when drying and storing to avoid pilling or other damage.
While a cashmere hoodie is an investment, its unparalleled softness and ability to keep you cozy without bulk make it worth the splurge for many. If you're looking for the ultimate luxury hoodie and don't mind paying a premium for the finest quality, 100% cashmere is the perfect choice. If you're seeking soft fabric at a reasonable price, a hoodie composed of a cashmere blend can suit your needs and budget.
Is a Hoodie good For Winter?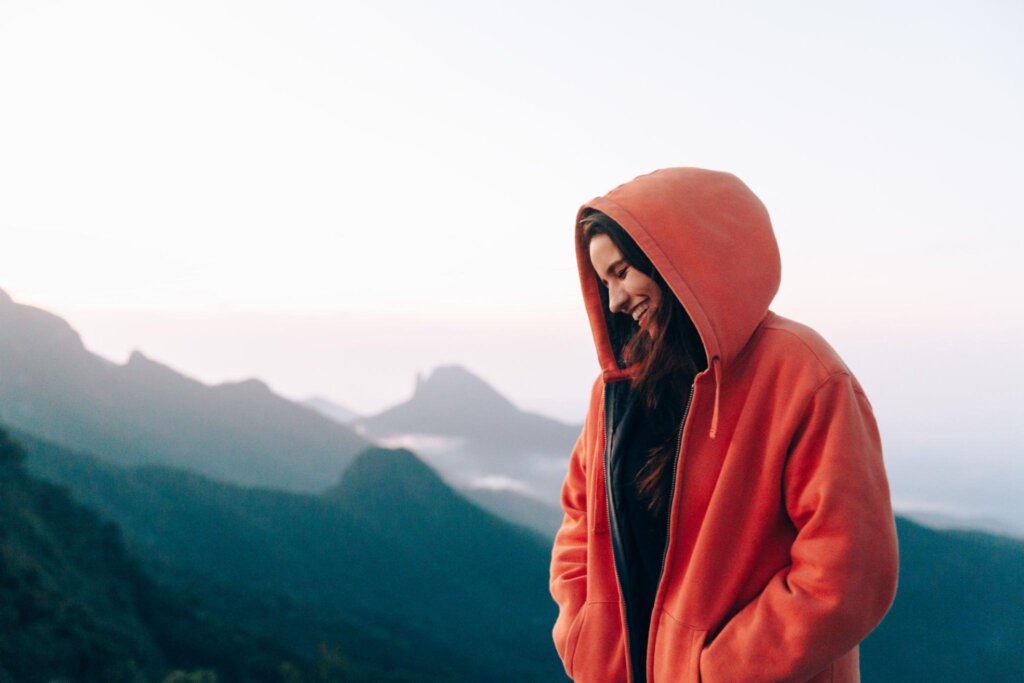 Different types of hoodies can be great choices for winter, depending on the fabric and insulation. Some hoodies are thicker and better suited for cold weather, while others are too thin to provide much warmth.
Cotton
Cotton is a popular, comfortable fabric for hoodies, but cotton alone may not keep you very warm in the winter. Look for a cotton hoodie with a heavier weight, like fleece lining or a sweatshirt-type weave. Cotton-polyester blends can also provide more insulation than 100% cotton.
Fleece
Fleece hoodies are excellent for winter. Fleece is a lightweight, warm, and cozy fabric that provides great insulation. Look for a midweight or heavy fleece for the coldest days. Fleece breathes well and is very comfortable against the skin.
Wool
Wool is one of the warmest fabrics and naturally insulates even when wet. Merino wool is a popular choice for hoodies and base layers. Wool hoodies may be more expensive, but they can keep you toasty warm. For those with wool sensitivities, a wool-synthetic blend may be more comfortable while still providing warmth.
Down or Synthetic Fill
Some hoodies contain down or synthetic fill insulation, like a lightweight puffer jacket. These provide significant insulation for their weight and are ideal for very cold winter weather. However, they may not be as breathable for high-exertion activities. Look for a fill power of at least 600 for down. Synthetic fill options include Thinsulate, PrimaLoft, and Polyfill.
Fleeces, wool, and insulated hoodies can all be great options for winter, depending on how much warmth you need. Layer them under a waterproof winter coat for the most effective insulation during the coldest months.
What is The Hoodie Material Called?
Hoodie material comes in many varieties, depending on your needs and preferences. There are different types of material for Hoodies:
Cotton
Cotton is a natural, breathable fiber that provides lightweight warmth and comfort. Cotton hoodies are ideal for layering and casual wear. Popular cotton fabrics for hoodies include:
Fleece: Soft, plush, and pill-resistant. Great for lounging and layering.
Terry cloth is absorbent, textured, and casual. Often used for workout hoodies.
Jersey: Knitted, stretchy, and breathable. Provides a relaxed, lived-in feel.
Polyester
Polyester is a synthetic fiber known for being wrinkle-resistant, durable, and quick-drying. Polyester hoodies are good for outdoor use and sports. Some options include:
Microfiber: Lightweight, soft, and insulating. Used for activewear and base layers.
Polar fleece is fluffy, warm, and pill-resistant.
Cotton-Polyester Blends
A blend of cotton and polyester combines the best of both fibers. Cotton provides softness and breathability, while polyester adds durability and wrinkle resistance. Cotton-poly hoodies offer comfort and versatility for a range of activities. Popular blends are:
Fleece: Warm, cozy, and pill-resistant. A go-to for casual and athletic wear.
Sweatshirt fleece: Midweight, relaxed, and lived-in Perfect for lounging and light activity.
Choose a hoodie material type based on how and where you plan to wear it. Natural or blended fibers are great for comfort, while synthetic options are better for performance. Factors including warmth, breathability, softness, and durability will depend on the individual fabric, blend, and weight. You can choose the best hoodie material for your requirements among the many alternatives available.
Conclusion
If you want to start a hoodie business, you now understand which fabrics make for warm hoodies and how to choose them. Now that you know how cotton, polyester, fleece, and wool can meet your needs, whether you're looking for something lightweight for relaxing or exercising, a midweight all-purpose option, or an incredibly warm heavyweight for chilly winter days, you can make an informed decision.
The most crucial aspect of choosing the best fabric for cozy hoodies is that it keeps you comfy and complements how you intend to use it. Find your ideal match by going outside and feeling the textiles.