Do you want to create a swimwear line that lasts? As fun as designing bikinis and board shorts sounds, creating a successful brand is no day at the beach. But with the right stuff—creativity, business savvy, and perseverance—you can turn your passion for swimwear into a thriving company.
How do I start a swimwear business? You already have the design skills and vision; now you just need to determine your brand's unique selling point. Are your suits eco-friendly, high-fashion, or made for athletic performance? Build your swimwear business plan around what makes you different.
Next, source high-quality, affordable materials and find an ethical swimwear manufacturer. With samples in hand, get opinions from friends and family, make improvements, and then start promoting your brand on social media.
When you're ready to launch, start small by selling online and at local boutiques. Provide amazing customer service, use real women as models, and engage with your followers.
Keep up with the latest trends while maintaining the uniqueness of your business. If you accomplish that, you'll quickly have devoted customers praising you on the internet. With hard work and perseverance, your little swimwear company can ride the wave to major success.
Researching The Swimwear Market
The swimwear market is huge, so do your homework. Check out the latest trends, colors, and styles that are popular now to determine what's going to sell.
See what the big brands are doing. Notice the cuts, fabrics, and details that are trending each season. Browse social media to spot influencers and see what kinds of swimsuits they're promoting. All of this will help you design pieces that will resonate with your target customers.
Look for gaps in the market that your line can fill. Maybe eco-friendly swimwear is lacking, or swimsuits for specific body types or age groups. Find your niche.
Study your competition to identify how to start a swimwear company where you stand out. Offer high quality at an affordable price point, create unique patterns and styles, or provide superior customer service. Give shoppers a reason to choose your brand. Doing your research is the key to developing a swimwear line that makes a splash.
Designing Quality Swimsuits That Stand Out
To design swimsuits that stand out, focus on quality, style, and fit.
Quality materials are key. Opt for fabrics like nylon and spandex blends that hold their shape, resist fading, and last through chlorine and sun exposure. Double-stitching critical seams and adding reinforcement or padding in key areas also improves durability.
In terms of style, think of fashionable cuts, colors, and details. Look at current trends but also consider classics and your target customers' needs. Maybe do some social listening to see what people are interested in. The options are endless: bandeau, tankini, one-piece, bikini, and monokini. Play around with colors, patterns, straps, lace, mesh, or ring details.
Most importantly, make sure your suits fit well and flatter different body types. Study various figure shapes and sizes to determine the best cuts, support, and coverage for each. Focus on supportive underwires, adjustable straps, and tummy control panels. Offer a range of sizes from XS to 3X or more.
When you take the time to construct quality swimwear using stylish and well-fitting designs, your suits will stand out and keep customers coming back each season. With some planning and attention to detail, you'll be making a splash in the swimwear market in no time!
Selecting The Right Swimwear Manufacturers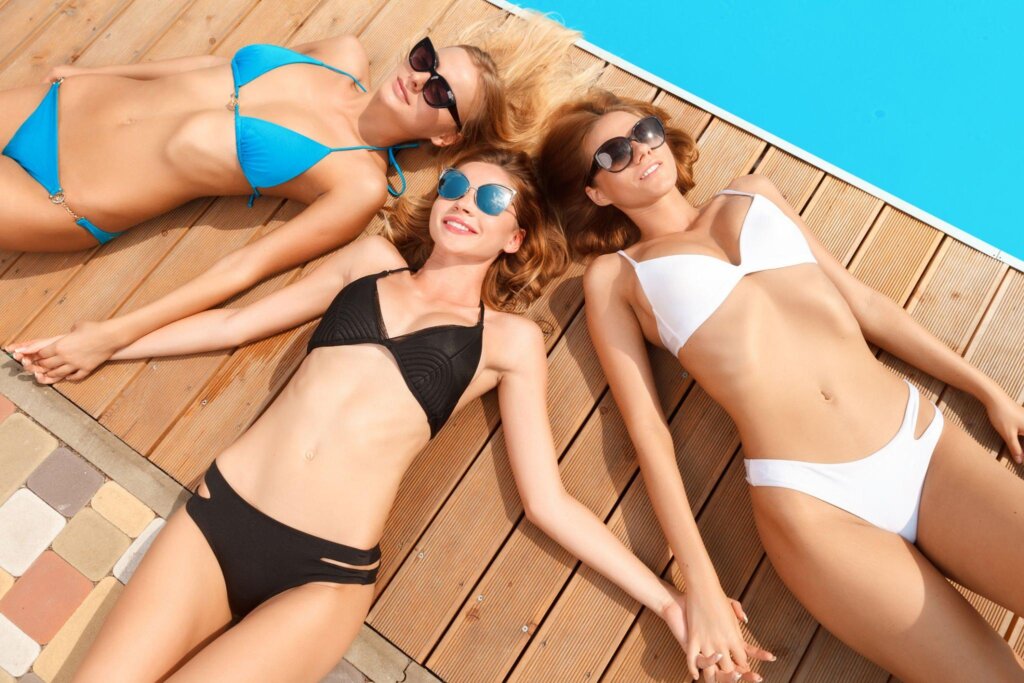 The swimwear manufacturers you choose to work with can make or break your new business. Do your research to find partners that meet your needs.
Look for manufacturers that specialize in swimwear. They will understand the technical specifications required for proper construction and fit. Ask about the fabrics they offer—you want options like nylon/spandex blends that provide stretch, are chlorine resistant, and offer UV protection. Inquire about their production capacity and turnaround times to ensure they can meet your demand, especially during peak seasons. over
Consider how to find a clothing manufacturer that offers private labeling. This allows you to build your brand by putting your logo and labels on the swimwear. You maintain control over your designs but don't have to invest in the production facilities and workforce to construct the suits. The manufacturer essentially acts as your behind-the-scenes partner.
For small minimums to start, look at companies that will do small batches or customized orders. As a new brand, you want to test different styles in small quantities before committing to large orders. Some manufacturers require very high minimum orders, making it difficult for new brands to get started.
Don't forget to ask for references from current clients. If a manufacturer is the best fit for your requirements, asking other swimwear businesses about their experiences can be helpful. Your success will be largely dependent on your ability to maintain a long-term partnership with a reliable manufacturer. Making fashionable, high-quality swimwear to sell around the world is possible with the proper partner.
The most important factors are finding a manufacturer that specializes in swimwear, offers private labeling and small minimums, has a fast turnaround, uses high-quality fabrics, and comes highly recommended by their current clients. Do your due diligence to find the perfect manufacturing match. Your brand's future depends on it.
Building An Online Presence And Brand Awareness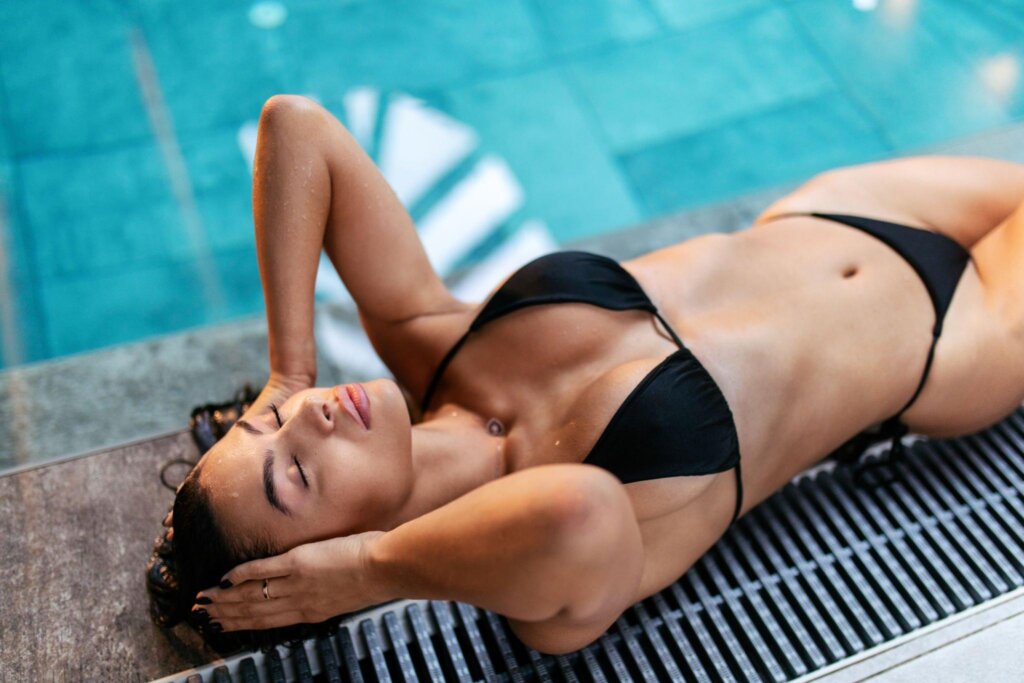 Building an online presence is key to establishing your swimwear brand and attracting customers. A few things to follow:
Build a Professional Website.
A stylish yet simple website is essential for any fashion brand. Focus on high-quality product images, an easy checkout process, and cohesive brand messaging. Include details about your mission, team, and manufacturing process to help visitors connect with your brand's story.
Promote your site on social media to drive traffic. Update content regularly to keep people coming back.
Start a Mailing List.
Collect email addresses from your website and social media followers to build a mailing list. Send regular newsletters with product updates, style tips, and promotions to keep subscribers engaged and coming back to your site.
Be Active on Social Media.
To increase brand visibility and communicate with potential customers, create business profiles on Instagram, Facebook, and Pinterest. Post images of your goods, behind-the-scenes snaps, looks that inspire you, and more. Engage your followers by liking and responding to their posts.
Run social media contests and giveaways to increase engagement and gain new followers. Collaborate with influencers in your niche to reach new audiences.
Get Media Coverage.
Pitch your brand story to fashion publications, lifestyle blogs, and influencers. Send personal emails highlighting what makes your swimwear line unique. Build relationships with editors and writers over time through social media and at industry events.
Earn media coverage to build authority and credibility. Get featured in roundups of the season's hottest swimwear brands and styles.
With time and consistency, you can build a loyal customer base and make a splash in the swimwear industry. Keep improving your online presence and brand messaging to establish your business as a go-to source for stylish swimsuits.
Retaining Loyal Customers Through Excellent Service
To build a loyal customer base, you need to provide amazing customer service. Your customers are your brand ambassadors, so keep them happy!
Respond Quickly
Answer emails and messages within 24 hours. Your customers will appreciate your promptness and feel like they are a priority.
Go Above And Beyond.
Do more than the minimum. Throw in an extra product sample or coupon with their shipment. Wish them a happy birthday or congratulate them on their graduation or new baby. Little personal touches show you care.
Be Transparent
Communicate openly about product quality, sizing, shipping, returns, and any issues. Honesty and transparency will earn you goodwill, even when there are problems. Let customers know what's happening behind the scenes—share photos and updates on new collections or business growth. They'll feel invested in your brand's success.
Make Seturns Easy.
Have a simple, hassle-free return or exchange policy. Make the process convenient for customers, and they'll keep coming back. Consider offering return shipping labels or a free return shipping promotion.
Follow Up
Reach out to get customer feedback and reviews. Send a personal email or note thanking them for their purchase and business. Ask how they're enjoying the product and if there's anything you can improve. Make them feel heard and valued.
Building real relationships and providing five-star customer experiences will earn you loyal fans and repeat customers. Keep them at the heart of your business, and they'll stick with you for the long run.
Is Starting a Swimwear Line Profitable?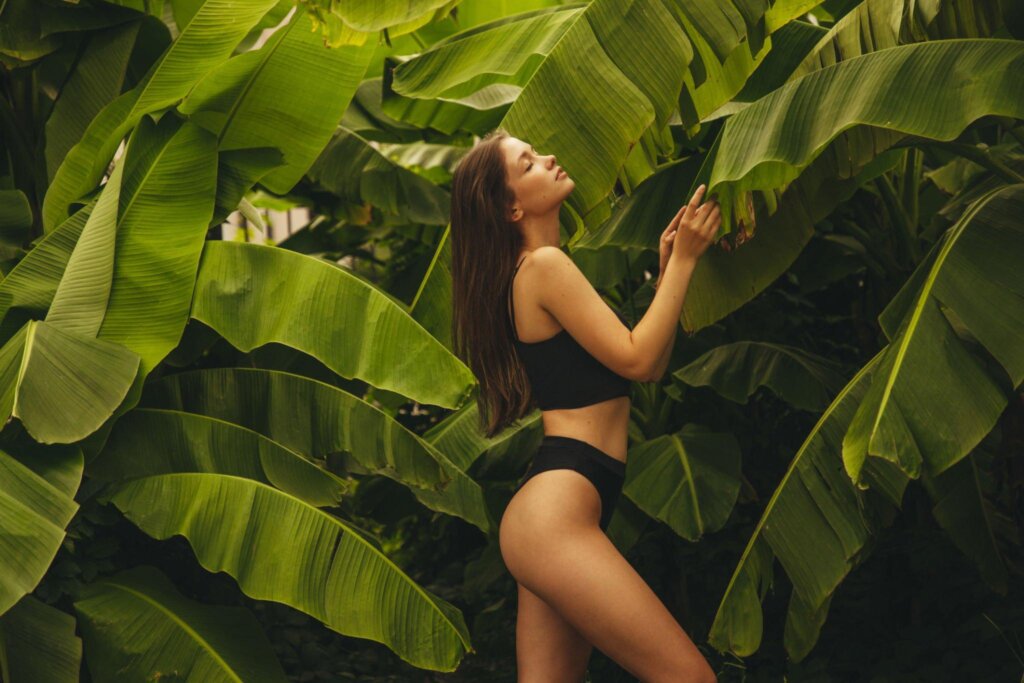 Creating your swimwear line can be profitable if you go in with realistic expectations. Swimwear is a competitive market but also a niche one. If you can find your target customer and meet their needs, you'll have a shot at success.
To determine if a swimwear line could be profitable for you, ask yourself a few questions:
Do you have a unique design or style of swimwear in mind? Something that stands out in the market could drive sales.
Are you able to keep costs low, especially when first launching? Look for ways to save on materials and manufacturing without sacrificing quality. Lower costs mean higher profit margins.
Do you have experience in fashion, design, marketing, or business? Any relevant experience will help you navigate the challenges of starting a clothing line. If not, consider partnering with someone who does.
Are you willing to start small and grow over time? Don't aim to become the next big swimwear brand right away. Focus on building a loyal customer base and expanding from there.
Can you identify your target market? Know who your potential customers are and what they're looking for in swimwear. Cater to their needs, and you'll have a better chance of turning a profit.
While the swimwear market is saturated, a well-designed line targeting an underserved niche can still be quite profitable. Do your research, start small, keep costs low, and be willing to adapt to feedback. With passion and persistence, you can build a swimwear brand that makes a splash.
Is Starting a Swimwear Brand a Good Idea?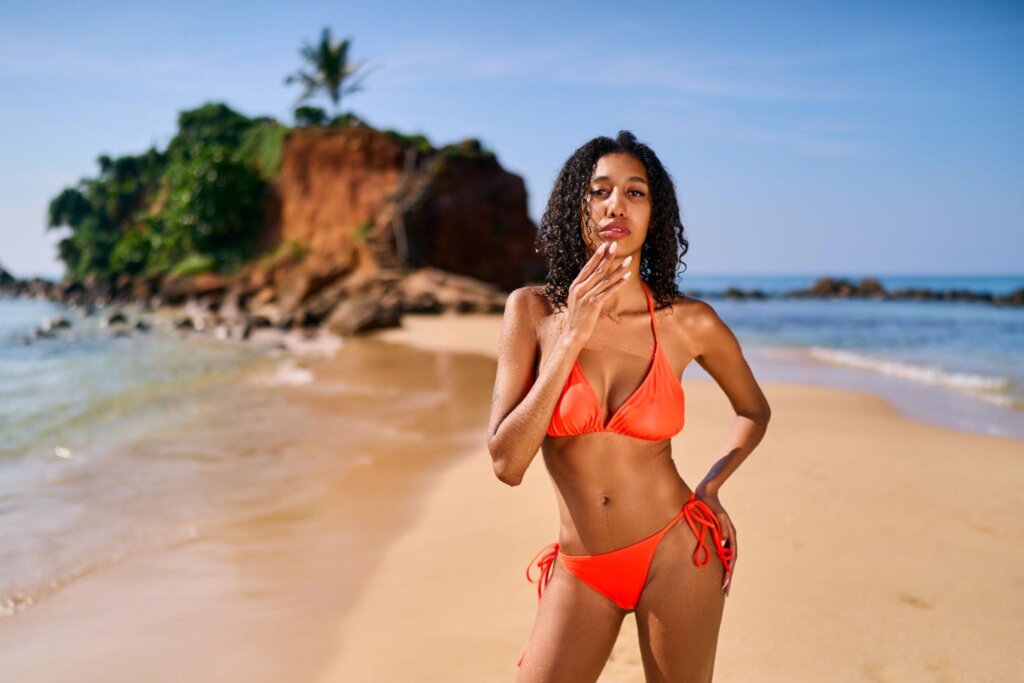 Starting your swimwear line is an exciting endeavor, but not without its challenges. Before diving in, consider if this niche market is right for you.
Is There Demand?
The swimwear industry has seen steady growth over the last decade. People continue to travel to beach destinations and spend their leisure time poolside. However, the market is saturated, so you'll need to determine if there's an unmet need your brand can fill. Do some research on current swimwear brands to identify gaps. If you have a unique product, style, or marketing angle, that's a good sign.
Do You Have Design Experience?
Creating fashionable yet functional swimwear requires skill and knowledge of fabrics, construction, and fit. If you're not a designer yourself, you'll need to hire experienced swimwear designers and patternmakers. Their expertise will be crucial in developing styles that flatter bodies and withstand chlorine and sun exposure.
Is It Financially Viable?
Any new fashion brand faces financial risks, and swimwear is no exception. In addition to design and production costs, you'll need funding for photography, marketing, and keeping inventory stocked. It can take years to become profitable. Make sure you have enough capital to sustain the business until sales increase.
While starting a swimwear line is challenging, if there's demand for your unique products, you have the necessary skills and experience, and you have adequate funding, it can be a rewarding endeavor. The key is doing thorough research, creating high-quality, fashionable pieces, targeting your marketing, and having perseverance and patience to establish your brand in this competitive space.
What is The Best Material To Line a Swimsuit?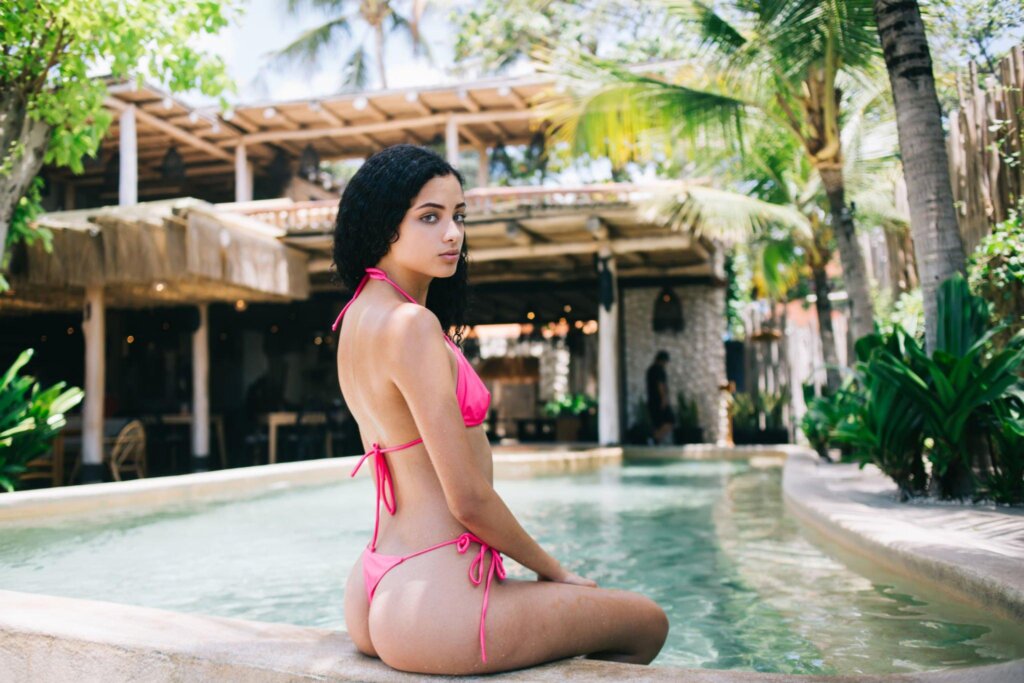 How a swimsuit's material will interact with your skin is the most crucial consideration. The two ideal possibilities are:
Polyester
Swimsuit linings frequently use polyester because of its strength, speedy drying time, and excellent shape retention. Polyester can feel scratchy and irritable next to naked skin, which makes some individuals uncomfortable. For sensitive skin, Polyester might not be the ideal material.
Nylon
Nylon, which is softer, smoother, and more breathable against the skin than polyester, is a preferred alternative material for swimsuit lining. Saltwater, chlorine, and sunscreen have little effect on nylon's strength or resistance to harm. On the negative side, nylon can feel clinging when wet and takes longer to dry than polyester. To prevent sagging over time, nylon linings may need particular care.
Your needs and preferences will ultimately determine the ideal material for your swimsuit's liner. Do you desire the greatest comfort, the quickest drying time, the best form retention, or all of the above? You can select a lining that will keep you cool and confident all summer by weighing the advantages and disadvantages of various fabrics.
Conclusion
How do you start your line of swimwear? Focusing on high-quality, fashion-forward designs employing the newest trends and materials is essential for developing a swimsuit brand that stands out from the crowd. Build a memorable brand story and image that emotionally connect with your target customers. Curate your collection and only produce what sells. Market the heck out of your brand on social media to raise awareness and drive sales. Provide a great customer experience to gain loyalty.
And don't forget, swimwear is seasonal, so plan your production and sales cycles carefully. If you get all these elements right, you'll be well on your way to building a swimwear brand that lasts.